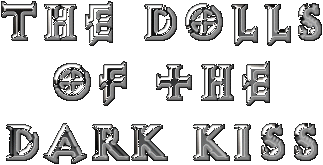 Note: the lzh files are compressed in zip files so the server recognizes them. I've moved the files to a different server, in the hopes that this time it will all work correctly.




Dolls by category
(with preview images and ramblings on each doll)


Goth dolls

Sandman dolls

Egyptian dolls (currently only one)

X-men dolls

Christmas dolls



All my dolls
(just with a basic table)
Dolls for Children by Age Rating
(just with basic tables)
Rated G dolls
Rated PG dolls
Exclusive dolls



A few dolls are also exclusive to the Erotic Kiss Page. These dolls are not for children or the faint of heart.



---
[The Realm]
[Kiss?]
[FKiss]
[Tea's Dolls]
[Personal Favorites]
[Work]
[Java Kiss]
[Links]